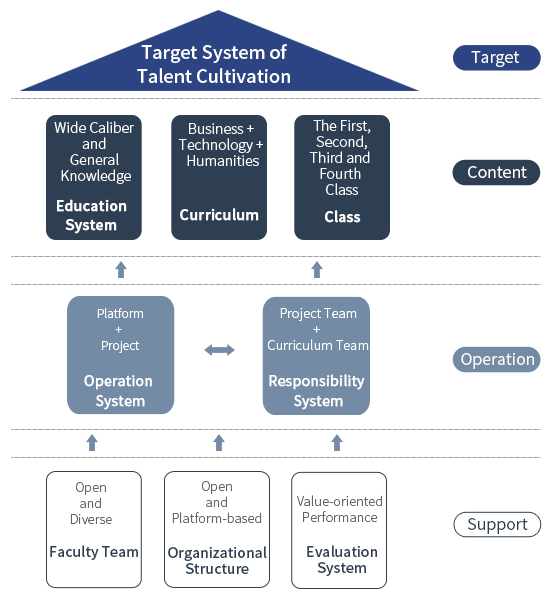 The basic idea of developing "Business Plus" education ecosystem is to build a four-level system composed of "Target - Content - Operation - Support, covering nine sub-systems as follows.
● Target System of Talents Cultivation.
To cultivate talents who can change China and the world with "knowledge, capability, quality and personality", a four-in-one skill set
● Professional System of Wide Caliber and General Knowledge.
To set up undergraduate majors according to the scope of national first-level disciplines, and to take "management fundamentals, scientific and technological insight, and humanistic spirit" as cultivation objectives.
● Curriculum of "Business + Technology + Humanities + ......".
To reform the curriculum by means of "Business Plus" model. In other words, to establish a talent cultivation system through an integration of "Business + Technology" and "Business + Humanities", which is based on management science and is complementary with engineering science, experimental science, data science and the humanities etc.
● First, Second, Third and Fourth Class.

To organize First Class (Classroom teaching and learning) in compliance with KAQ2.0 talent cultivation mode of Zhejiang University; to take full advantages of "business school in a comprehensive research university" and to effectively utilize the interdisciplinary function of Second Class; to realize the integration of science and technology, teaching and learning as well as company visit and social practice (Third Class); to promote student international exchange as required by the Fourth Class by achieving the goal of "three 100%" strategic objectives: 100% outbound international mobility for undergraduate students, 100% international joint programs for MSc students, and 100% 6-month and above overseas research visit for doctoral students.
● "Platform + Project" Operation System.
Platform refers to building the School into a platform-based organization. As the infrastructure of teaching and learning, academic research and administrative collaboration, the School should be able to support the dynamic innovation and orderly operation of various teaching and learning activities. Project refers to that all programs are operated in accordance with the project management, with the program director being responsible for the program, forming a system of "program revolving around the platform and platform revolving around the program".
● Responsibility System of "Project Team + Curriculum Team".
All programs should be equipped with a committee responsible for the operation of the program with the leadership of the program director. The course committee is the basic organization of pedagogical research and is also the fundamental unit for organizing teaching activities. The main function of the course committee should be implemented under the leadership of its head, thus forming a governance matrix between course committee and program committee.
●"Open and Platform-based" Organization Structure.
The reason why we put emphasis on openness is to make full use of advantages of being a business school in a comprehensive university and a business school with seamless connection with various stakeholders. The reason why we emphasize the platform is to put the School in the center of the network, being interconnected with external organizations. We aim to establish a mission-driven network connecting partners from different areas including teaching and learning, academic research and social services, so as to realize resource integration and a coordinated development.
●"Open and Diversified" Faculty system.
The School needs to build the "Department-Student-Enterprise" alliance to attract outstanding entrepreneurs and professional managers, social celebrities and international scholars to join the School as adjunct professors or partner of joint programs, so that students can access to diverse faculty resources.
● Value-oriented Performance Evaluation System.
The School advocate the culture of "Three Excellence" in order to optimize faculty performance evaluation system and incentive scheme with the values of "teaching wholeheartedly as loving our own children" and "taking talent cultivation as the priority and premier achievement of academic research".